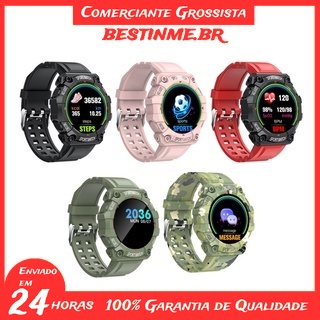 [Enviado em 24 Horas] Relógios inteligente FD68 PK Smartwatch Y68 D20
Comprar Agora na Shopee
Welcome to "Wenda Tech Ⓡ official store" ✨✨✨
✅Envio dentro de 1-3 dias,2-4 semanas para chegar.
🎁Se você clicar em "seguir" a loja, você receberá um cupão de alto valor.
✅Qualidade Garantida: O preço é um pouco caro, mas a qualidade é a melhor.
✅Temos uma equipe profissional de pós-venda à sua disposição 24 horas por dia.
🎁100 presentes misteriosos por dia para novos clientes, primeiro a chegar, primeiro a ser servido, entre em contato conosco para receber um presente.
FD68S Multifunctional Watch 1.44 Inch Round Screen Healthy Bluetooth Watch
Product Features:
Compatible with Android and iOS systems, smart sport. Compatible with FitPro APP.
A piece of injection-moulded body and stainless steel are fully formed reaching IP67 waterproof effect.
High definition, the night version is clear and not blinding.
Hardened glass screen, wear resistant and scratch resistant.
Messages are remembered and delivered in real time, take photos and shoot video s.
Real body monitoring, including heart rate and sleep status.
Environmental protection TPU belt, high toughness, skin friendly, comfortable to wear.
Built-in multiple sports modes, alarm clock, step counting and other practical functions.
BT connection, stable without wires, convenient and fast.
Pulse optic heartbeat, raise your hand to light up, monitor heart rate changes in real time.
Built-in USB interface, plug and play, universal, practical, handy and fast.
Product Specification:
Model: FD68S
APP:FitPro
Color: Black, Red, Green, Pink, Marine Blue (optional)
Waterproof: IP67
BT version: 5.0
Battery: 1 *Polymer Lithium Cell, 3.7V 260mAh (included)
Screen size: 1.44inch
Applicable system: above IOS 9.0, Andriod 5.1 above tyre
Material: TPU
Case material: metal alloy + Lastics
Screen resolution: 240*240 pixels
Charging Method: built-in USB interface
Operation mode: Control button
Chip: HS6620D
Frequency band: 2.4GHz
Standby Time: 40 days
Package weight: 44g / 1.55ounces
Packaging: 1228132mm / 4.80*3.19 * 1.26in
Packing List:
1 × Smart watch
1 × User Manual
1 × Packing Box
🎁Se você clicar em "seguir" a loja, você receberá um cupão de alto valor.
Specification: Model: Y68 Screen size: 1.44 inches Resolution: 128*128 Wristband material: tpu Battery capacity: 90MHA Body memory: 128KB Wearing method: wrist strap Mode of operation: touch
Features: *exercise function: step / calorie / distance, multi exercise mode. *Heart rate monitoring, blood pressure monitoring and other health functions *Sleep monitoring, exercise mode, call reminder, alarm clock reminder, hands up and screen lighting, social sharing (wechat, QQ, Facebook, twitter), etc *The product does not have a charging cable, the product can be directly charged by USB
Package Contents: 1Bracelet 1Instruction 1*Packing box
🎁Se você clicar em "seguir" a loja, você receberá um cupão de alto valor.
Comprar Agora na Shopee